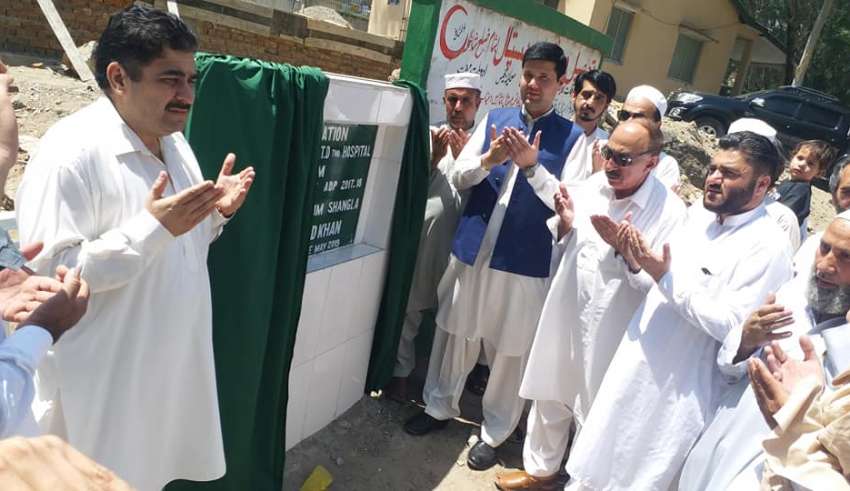 District Nazim Niaz Ahmed Khan and other are praying after inauguration of Trauma center at THQ Hospital Bisham.
SHANGLA: District government Shangla has approved Rs30 million for the tehsil headquarters hospital Bisham for the facility equipment and development projects.
It was claimed the district nazim Shangla Niaz Ahmed Khan during a inaugural ceremony of mass trauma center and operation theater in the hospital. District health officer Doctor Muhammad Riaz Khan, hospital MS Doctor Mansoor Ahmed and DMS Doctor Sannaullah were present on the occasion.
The nazim said that he has given huge funds for the development of Education and Health sectors as these both departments were needed attention.
He said, he has released Rs 7.5 million for the trauma center equipment and other facilities to be ensured at the major hospital of Shangla, Bisham.
He said, Air conditions at emergency and operation theater, compurization of whole hospital and construction of new tubewheel.
He added that Rs 05 million has been approved for purchase of new digital X-ray machine for the hospital, while Rs 10 million had been already released for the construction of mass trauma center at the hospital and construction work is underway on it.
He said, funds also approved for waiting rooms and installation of new water supply scheme in the hospital.
The hospital DMS Doctor Sanaullah on the occasion thanked the nazim as he was promised that the approved funds's cheque to be handed over to the THQ hospital Bisham's medical superintendent today on Monday.