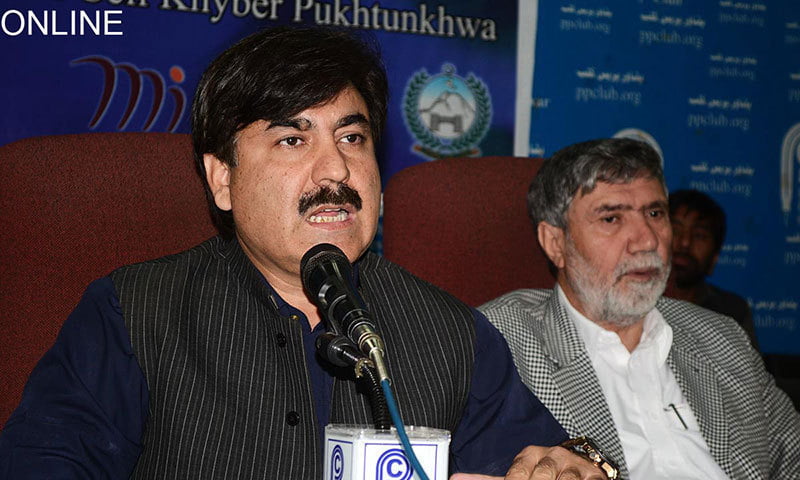 SHANGLA: Minister for information, taxies and taxation Shuakat Ali Yousafzai has said that applicants who had applied for the police constable job in Shangla district would be recruited soon, the issue has been resolved.
It was stated by minister for information Mr Yousafzai here on Sunday at his standing committee office in Shangla while hearing the public issues.
He claimed that upon meeting up with the inspector general of police Khyber Pakhtunkhwa he got know that posts for Shangla were sanctioned but it is still unknown that test was conducted from them.
"I met the IGP and he assured me that those applicants who had been applied for the post and also given test they would be recruited and DPO Shangla has also called them for interview on December 28," The minister said.
He said he will not let the people involved in conduct of test of Shangla youth they would be faced disciplinary action at any cost for which he was striving to indentify them because every candidate have paid 4,5 thousand of rupees to Etea for the test.
Mr yousafzai on the occasion heard issues of the locals and some of them he sort out on the spot by ordering to the concern authorities to for fixing.
Meanwhile, District police officer Shangla Rasool Shah confirmed it that he has called the applicants for physical test at Kabal in Swat district on December 28.
DPO Said that about 71 candidates were successful in Etea test for the police department constable positions they should ensure their appearance for the physical test at Kabal Swat.
TRAFFIC ACCIDENT: A man was died and two others were injured when a pick up fell into a ravine at Pezal area of Shangla here the other day.
Police officials said that a pick was bound to Khadang Saidanu Dehrai when it reached Pezal it fell into a deep ravine as result a man identified as Zahir Nabi was killed on the spot, while including a woman and his infant were injured.
Police the local people had retrieved the injured and taken them to a local hospital in Dak Bangla, while they were residents of Saidanu Dehrai Khadang village were returning their home after visiting the hospital in Chakesar.
Police replied the answer that the accident was occurred due to technical fault developed in the van.