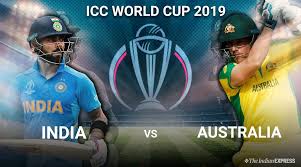 Cricket World Cup matches are being played in England and Wales. 14th match of ICC World Cup played between India and Australia in Kennington Oval stadium, London on Sunday, June 9.
India played a fabulous game and won this high-ranked match with 36 runs.
Indian captain Verat Kohli won the toss and selected to bat first. Openers gave a very good start. Rohit Sharma dropped on 2 by Coulter-Nile in 1.3 overs. India completed his 100 in 19 overs. First wicket partnership broke on 127 in 23rd over when R. Sharma out. He scored 57 off 70 balls with 3 fours and one six. Second wicket partnership scored 93 runs. S. Dhawan scored 117 runs off just 109 balls. Captain Virat Kohli played a remarkable 82 runs innings off 77 balls and Hardik Pandya scored 48 off just 27 balls.  MS Dhoni scored 27 off 14 and KL Rahul 11 off 3 not out.  Marcus Stoinis took 2 wickets. Pat Cummins, Mitchell Starc and Nathan Coulter-Nile took 1 wicket each. Indian team scored 352 runs for 5 wickets and gave a tough 353 runs target on 50 overs.
Australian started innings with little caution, but Captain Aaron Finch was run out on 36, when he was trying to take an unnecessary run. It was the turning point of match. He was playing very well and it was able to be seen that they would achieve the target. But after that the wickets fell down and the target went to be tougher. Australian batsmen tried to achieve the target but that was not more enough. Steve Smith scored 69, David Warner 56 and Alex Carey scored 50 not out. Usman Khawaja and Glenn Maxwell scored 42 and 28 respectively. Five batsmen were out before crossing double digit. Bhuvneshwar Kumar and Jastrit Bumrah took 3 wickets each and Yuzerndra Chahal took 2 wickets. Australia could score 316 and all out on 50 overs.
Man of the match was S. Dhawan.
It was the best and memorable performance of Indian team. Indian team completely dominated to Australian team. Indian team touched the entire match. Planning and using the condition of weather and players is the key deference in those teams. India won both its both matches and stands on third position on point table.
It is not a good sign for Australia, because it has next match with Pakistan and Australian team's moral has fallen down after that match. Pakistan can win its match against Australia, if it plays with full strength.